Today,
Scotland plays France
in the
RBS 6 Nations Rugby
; the 6 nations are Scotland, Ireland, England, Wales, France and Italy. I'm not a huge sports fan by any means but there is something about the game of rugby...a wee bit similar to American football...that I just love; there is a wonderful camaraderie between
all
the fans
unlike with football
, the strength and focus of the players, the determination of every team; despite everyone taking it seriously, everyone enjoys the whole thing immensely.
Now isn't that what sport should be about?
So at 3pm, I shall be watching, much to the chagrin of some
sorry girls, enjoy the afternoon tea
and the joy of others
come on over.
Come on, Scotland!
Garlic Butter Swirls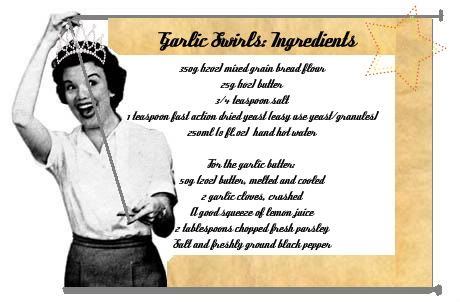 Lightly grease a shallow baking tin (enough for 12 small rolls) or place parchment paper on instead. Place the flour in a bowl with butter, and rub it together. Stir in salt and yeast. Make a well in the centre and add enough water to make a soft dough...not too sticky!
Turn onto surface and knead for 10 minutes until smooth. Place in a polythene bag with a wee bit of oil in it and leave to rest for 10 minutes.
Lightly flour the work surface and roll out the dough to approx. 35x25cm/14x10 inches. Mix together the butter, garlic, lemon juice and spread over the dough, taking it right to the edges. Scatter the parsley over the top and season lightly.
Roll up the dough tightly from the long edge like a swiss roll and pinch the seams together to seal. Using a sharp knife, cut into 12 equal pieces. Turn the pieces so that the spiral faces upwards on the baking tray-space evenly. Cover the rolls...I use a damp tea towel...and leave for the second proving in a warm place until doubled in size.
Preheat the oven 10 minutes before using to Gas Mark 7/220oC/425oF. Bake the bread for 15-20 minutes until golden. Allow to cool slightly on a wire rack before serving warm.
These rolls freeze beautifully and are wonderful with pasta dishes like spaghetti Bolognese as well as serving with antipasti dipping into olive oil and balsamic vinegar. You can sprinkle some chilli flakes over the garlic butter before rolling up the dough for an extra zingy version. Gone to have some now....
The ingredients, in easy to read format:
350g (12oz) mixed grain bread flour
1 teaspoon fast action dried yeast (easy use yeast/granules)
250ml (8 fl.oz) hand hot water
50g (2oz) butter, melted and cooled
A good squeeze of lemon juice
2 tablespoons chopped fresh parsley
Salt and freshly ground black pepper