I was a mod once. It lasted about 6 weeks. I had the jacket, the make-up, the glaiket expression. I listened to The Jam, The Who and early reggae. I wore badges with Quadraphenia and bullseyes, curled my lip and looked downwards at all times. I cut my hair to resemble a chipmunk. Smiling was out, sulking was in. My twin sister decided, at the same time, to become punk-like. She cut of her hair except for the huge spike that fell over her eyeballs, vision being secondary to fashion and trend. Who knows what she listened to, I sure wasn't interested. She donned a deliberately dumb stare and I a glazed one.
We shared a room.
Harmony was a hairspray; it only existed as a fine mist, making tangled angles out of hair teased to stick straight out or flattened to your skull, the cloud of residue leaving you with a persistent cough and damage to the ozone layer.
Channelling my inner mod.....maybe a little young still.
We ate stovies with corned beef, mince and tatties, beanfeast. My mum was progressive; she liked to experiment. The main success was mince curry, using leftover mince, spices and rice. We felt sophisticated, eating noodles or pasta before every household had them as staples. I tried to experiment and would spend hours in the kitchen, determined to make a nice meal for everyone and coming up with a bowlful of mush, not fit for the poor, poor cat. I was a terrible cook.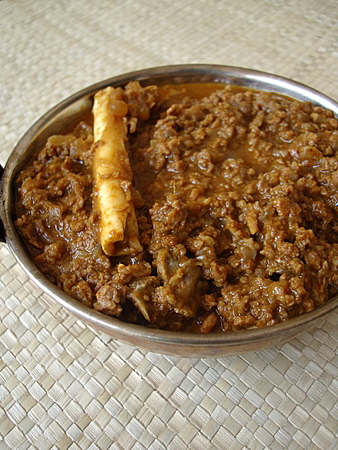 Back then, I thought the more ingredients you put into a dish, the better. It never really worked out that well. To this day, I see a recipe with three ingredients and my first thought is "how could that taste as delicious as they say?". Luckily, experience is a wonderful thing. I realise that simplicity, in all it's form, is usually the most effective way of getting a wonderful plate of something scrumptious. And it's cheap too. What more could a tight, Scottish, thrifty shopper ask for?
Free food? Free booze World peace?
So, in honour of that, here are a few recipes I made last week that are limited in ingredients, time and cost but bursting with taste. Or so I / we think anyway.
Pasta Fromage with écrimage croustillant....
aye, hen, we know it's mac n' cheese!
Macaroni Cheese
Ingredients for 6:
Approx. 50g of pasta per person or more if you prefer
A large knob of butter
Tablespoon of plain flour
Milk
Grated cheddar cheese, four big handfuls
Actual measurements really don't matter in this recipe, don't be alarmed!
Boil a large pan of boiling, salted water and thrown in your macaroni or pasta of choice. The only pasta that doesn't go with this, in my opinion, is spaghetti or strand type pastas. Leave to boil for the recommended time, usually around 10 minutes. The sauce will take no more than this to make.
Place the butter into a pan and melt over a medium heat. Once completely melted and starting to froth, add the tablespoon of flour and start to stir. It will froth and change colour. Keep stirring for a minute then, with your free hand, add a splash of milk. Don't stop with the wooden spoon though. If you have to use your free hand to hold the handle of the pot, don't worry. Stop stirring, add the milk and then start stirring again. The roux (lumpy mixture) will feel thicker as it all comes together in a lumpy paste. This is fine. Add another wee drop of milk and stir vigorously. It will stay lumpy until about the fourth or fifth drop of milk and start to resemble a sauce. Just keep stirring, stirring, stirring......
Keep adding milk until you have a white sauce of a fairly thick, creamy consistency, like double cream. It shouldn't be too much though as the simmering will thicken it up as will the cheese. Once you are happy with your consistency, turn the heat down and let it simmer very gently for a minute. Then add the cheese a handful at a time and stir until it has melted into the sauce. You can turn the heat up a bit if it is taking too long. Once all the cheese has been incorporated, simmer gently for another minute and that is your basic cheese sauce.
Below are the optional ingredients including seasoning:
Freshly grated nutmeg
White ground pepper
Pinch of salt
1-2 slices of bread blended with a handful of cheddar cheese to make breadcrumbs
Tablespoon Parmesan grated (optional)
A sprig of thyme (optional)
I always add a good grating of nutmeg and a few shakes of the white pepper to my sauce. Taste it first before adding salt as different cheeses have different salt levels. I always use unsalted butter so tend to need a pinch. Drain pasta and pour into cheese sauce, not the other way around. If your cheese sauce pot is too small then add some of the pasta to the cheese sauce then pour that back into the rest of the pasta and mix well.
If making a crusty topping, I blend bread slices with a handful of cheddar. I mix in a few leaves from a sprig of thyme which is probably entirely unnecessary but I love the taste nonetheless and sprinkle it on top of the mac and cheese which has been placed into an ovenproof dish. I sometimes add a tablespoon of Parmesan but since I'm advocating less is more, forget about it! Bake in a medium to hot oven until top is golden brown. Watch happy faces devour the entire tray.
Use the sauce to cover cauliflower, potatoes...great if thinly sliced, covered in the cheese sauce and topped with the crust and baked in a hot oven....nachos, bread or dough balls.
Chicken Cous Cous
Ingredients for 6:
Cooked chicken, leftover or breast/thigh etc. Approx. 1oz per person.
Cous Cous
Chicken stock
Spring Onion x 2
Cucumber
Cook the cous cous as per requirement on packet: I place a knob of butter into a pan, add 5oz cous cous, stir and cook over a gentle heat for a minute and then add 5oz chicken stock, stir and take off heat. Leave it for five minutes to soak up the stock and then place back on heat, stirring for a minute or two. Take back off the heat. I like to add a squeeze of lemon and a little freshly ground black pepper.

Chop the chicken, season and add to the cous cous. Chop the spring onions finely and dice the cucumber, adding both to the cous cous. You could add a few, thin slices of red chilli if you like it with a bit of heat; I like to add this to the chicken stock to infuse and soften.
Serve up hot or cold.
Spaghetti with smoked salmon
Creamy Spaghetti with Smoked Salmon
Ingredients for 2 or one greedy person like me:
Spaghetti
Small onion, finely chopped
Olive oil
1 garlic clove, finely sliced (optional)
Handful chopped smoked salmon
Tablespoon cream
Boil spaghetti as per normal. Cook onion in olive oil; do not brown, stir gently from time to time, adding a tiny drop of water if the onions are cooking too fast. Add garlic when onions are almost soft. Cook for a further minute over a low heat and add the tablespoon of cream and smoked salmon. immediately take of the heat. Add cooked and drained spaghetti to sauce pan and if you happen to have a handy lemon quarter, squeeze it all over and then mix/toss well. If you prefer it a bit richer, add a few cubes of cold, unsalted butter and leave to melt. Grind a lot of black pepper over dish. Place in bowl and, safe in the knowledge that no-one will want any because they don't like smoked salmon, eat in front of the tv until gone.