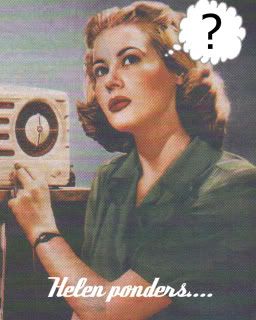 Why is my hand stuck to a radio and why is my watch so darn tight? I'm going to pass out soon....gawd, I'm hungry.
Laura
from
The Mordaunts
asked me: "I was wondering if you could give some hints/tip on how you got started with the weekly budget. I really need/want to do something similar. I am sure that we bleed money into our food budget constantly with our disorganized shopping. What are Auntie Helen's tricks for getting started on the road to food planning, food budgeting and food loving?" Ask, dear Laura, and ye shall recieve!
I started with a well stocked pantry; my basic list would be as follows:
Cupboards:
Rice
Lentils
Broth mix
Chick peas
Stock cubes
Wide range of dried herbs and spices
Dried chillies
Maldon sea salt
Olive and extra virgin olive oil
Sesame oil
Groundnut and vegetable oil
Soy sauce
Seeds and nuts
Couscous
Dried noodles (fine)
Dried pasta
Vinegar; balsamic, wine, etc.
Tomato puree
Chopped tomatoes
Jarred artichokes
Fresh:
Herb plants
Lemons
Limes
Onions
Garlics
Fresh chillies
Ginger
Potatoes
Eggs
Fridge items:
Cheese: Parmesan, cheddar, goats, feta
Salad
Butter
Cream
Milk
Olives
Baking:
Flour: plain, self-raising, wholemeal, bread
Sugar: caster, icing (fine, superfine), brown, demerera
Yeast
Almond and vanilla extract
Dark and milk chocolate
Parchment paper
You can make a multitude of meals with the items above and almost all of these will last for some time. To buy all these items at once would cost between £50-£75. That would be your first shop with some meat thrown in there for the week!
Now that you have your basics, you want to write out your menu for the week with the following principles:
* What meals does everyone like and what meals would I cook just for adults and just for kids? Minimise meals which need you to cook twice!
* As a general rule of thumb, have one chicken, one meat, one fish, one pasta, one rice, one vegetable and two leftovers a week.
* It's worth spending money on free range chicken; buy large and pick clean for another meal and for soup.
*When buying meat, look out for special offers and cook large batches and freeze. Remember what you have in there so that you can add a frozen item onto your menu each week or so.
*Use leftover chicken or meat to serve with pasta or couscous.
*Even cooked veg can be kept to throw into soup or a pie.
Get the whole family involved; ask them what their favourites are and ask them what new foods they'd be willing to try. Get the kids to eat favourites mixed with new flavours e.g. my kids like fish like salmon and coley and they like cheese sauce so I combined them with a smoked fish to make a fish pie and will add less cheese each time until I have a mainly white sauce.
Get them to have routines: someone kneads the dough for the bread every Saturday, another cuts up all the vegetables for Sunday's roast....get them to give you suggestions as to what to add for flavour and try it out...in small batches!
Shop once a week for the week ahead...if it lasts longer, great....you'll find this will happen from time to time as the freezer gets stocked up. Buy what you need as per your menu plan...write a shopping list....and also decide what you want for lunches and breakfast. Don't overdo the fresh ingredients unless you are willing to cook some meals in advance i.e. if you need fresh coriander for Friday's curry and it is Monday, do your weekly shopping on the Friday or buy a plant instead of cut herbs. Keep money aside for bread and milk from the local shop.
Change the above to suit your own family and your own needs; set a budget that suits you and try to stick to it. Don't waste anything; if it needs used, cook it and freeze it, if it needs eaten, have it for dinner or freeze it...everything can be made into a pie, a stew or soup.....
everything
!
Good luck!
Messy but very tasty brownies!